Organic and natural relaxation
Discover BioPoolTech's wooden jacuzzi, perfect to relax and unwind in. It works inside or outside all year. Our spas are wooden and offer an unrivaled natural comfort.
The advantages of our Bio and Connected Filtration System
All our spas are constructed with smart and connected Bio filtration from BioPoolTech. This filtration is without chlorine, bromine, or other chemical products. We combine ultraviolet sterilization (UVc) with advanced biological filters.
Our filtration systems are simple to use without constraint. They assure an impeccable water quality.
As with natural pools, This unique system allows you to not need to change the water.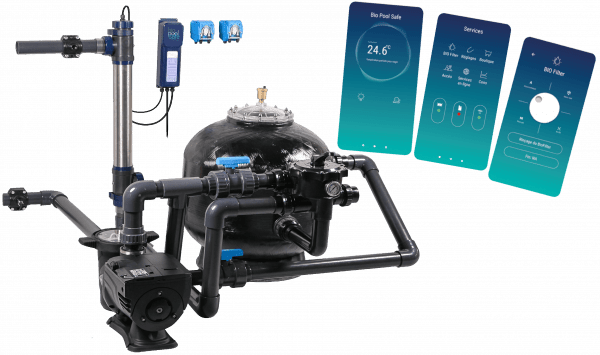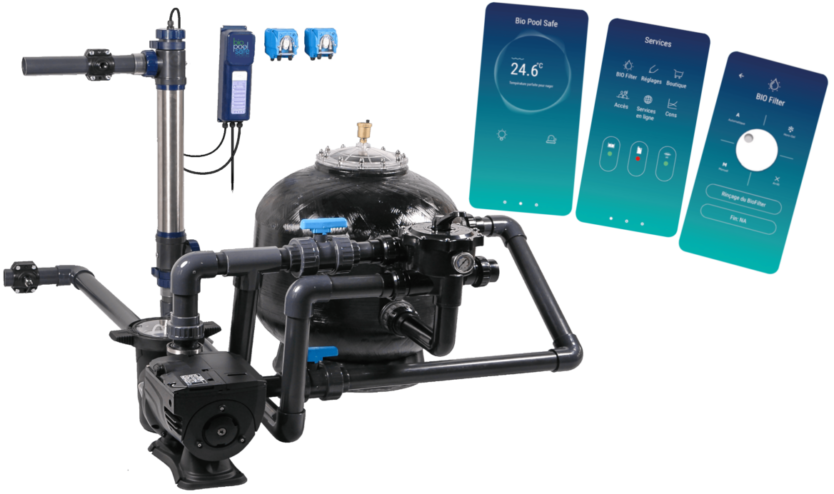 To say even more, the filtration functions without making noise, since our filtration system is kept in a separate room along with a variable flow pump. With BioPoolTech spas, discover relaxation without extraneous noise.
* Non-contractual photo, filtration according to the power & the size of the spa.
The Benefits of a Wooden Spa at Home
Jacuzzis, known for their benefits, offer an exceptional quality of rest. Also, they relax your body, your muscles, and your spirit. These large hot tubs help with blood circulation. Effectively, hot water promotes blood vessel dilation. The blood in your body is capable of moving more freely. Relaxation and destressing follows: the spa is in fact a great source of massages. It works just as well inside or outside the home. In addition to providing basic benefits, BioPoolTech spas don't use bromine, salt, or other chemical products, instead using bacteria to maintain your hot tubs and pools. Our jacuzzis are beneficial for your health since they were created without using chemical products.
The advantages of our Bio and Connected Filtration System
What is the difference between a jacuzzi and a spa?
Jacuzzis are a brand of spa and the two words in reality mean the same thing: a bubbling bath which, thanks to its bubbles, offers a unique massage. The difference is historic – spas designated thermal stations of the 17th century. Whereas, the jacuzzi is before all a proper name that became common. It is used to talk about balneotherapy bathtubs which is a concept invented by Roy Jacuzzi in the middle of the 20th century.
What is the holding capacity of a wooden  BioPoolTech spa?
The wooden BioPoolTech jacuzzi can fit up to 6 people comfortably seated on the douglas wood.
It is customizable to suit all of your craziest wants!
How do I choose a wood jacuzzi?
This depends on how you would like to use it. If you would like to buy an inside jacuzzi for 2 people, we would advise you to get a spa with two elongated seats. If you would like to relax with friends or family, we would advise you to pick a jacuzzi with 4-6 seats.
To find your ideal wellness space, ask yourself the following questions:
How many people should be able to fit? What are your expectations concerning the jacuzzi (sharing, relaxing solo, lighting options…) ?
BioPoolTech has opted for two types of wood: Douglas and Accoya. But why? Because the longevity of these types of wood is over 10-15 years. But it's mainly Accoya wood which is very durable over time. It is known to last up to 25 years. It has also been observed that Douglas is less robust than Accoya, however it is still reliable over time (10 year lifespan).
What are the features of our jacuzzi? 
It is a bubbling bath system with 6 jets built into the bottom of the pool, powered by a 900W blower placed in a control room, with pneumatic control integrated directly in the tub.
Our wellness area is made of natural wood and has 2 benches that are 2 meters long each, located 50cm below the water level.
The curved coping is 55mm thick, walls 30mm thick.
BioPoolTech's smart and connected wooden jacuzzis are constructed with bio filtration. This filtration is without chlorine, bromine, or other chemical products. We combine UV sterilization with advanced technology on biological filters.
Do I have to regularly change the water of my wooden jacuzzi? 
Never with us! That is precisely the advantage. Thanks to our bio and connected filtration, you save water.
On what types of surface can the wooden jacuzzi be installed?
In your yard, because our spas are inground like our swimming pools.
What are the normes to know for your wooden jacuzzis? (Construction authorization, inside and outside…)
Under 10m2, it's possible to build a jacuzzi without authorization.
Otherwise, as with all pools, It's necessary to get an authorization from your commune (town, county,?) ?
The regulations on spas fall under regional or local regulations in France.
Contact us to learn more about your dream project:
Contact us to Study your dream project