A unique positioning in the world of swimming pools: BioPoolTech's strategic ambition is to become the leading Designer and Distributor of Organic Swimming Pools and to revolutionize the world of Swimming Pools thanks to its concept of Organic Swimming Pool 3.0.
Revolutionary and unique Bio Filtration systems combining freshwater bathing comfort and environmental performance with modern control technologies (water quality, automatic regulation, temperature, etc.).
A range of Bio and Japanese pools, in immersed wood and without liner, based on an innovative and modern constructive system allowing to industrialize the manufacturing of solid wood pools, to optimize the installation time and to maximize the customization potential.
Online ordering tools allowing you not only to personalize your pool but also to adapt it to its environment.
A distribution strategy based on commercial and industrial licensing to rapidly accelerate deployment.

A strong R&D, supported by a dedicated Intellectual Property strategy allowing to :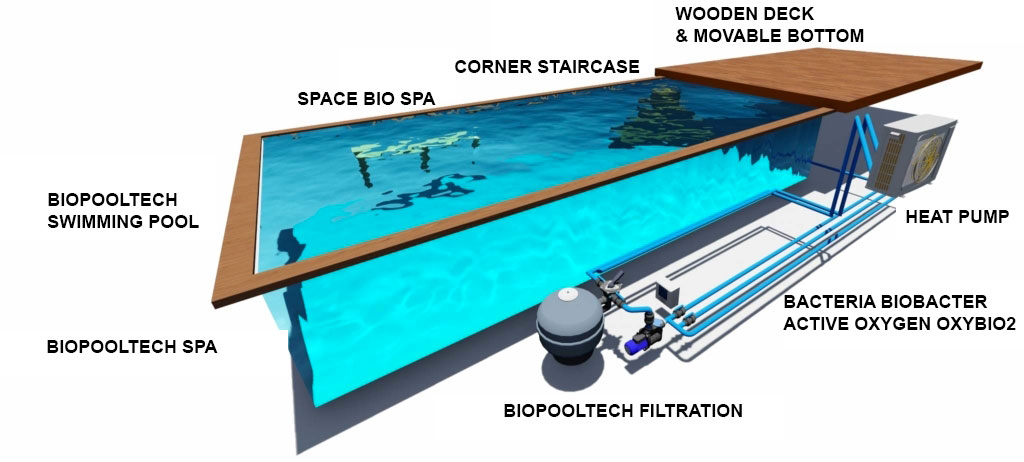 Develop innovative swimming pool lines under the brand name BIOPOOLTECH, for private individuals as well as for ERPs (public reception establishments).
Develop the BIO POOL TECH range of biological filtering systems in order to make these technologies accessible to an ever wider public.
Develop new technologies in the field of swimming pool safety (terraces and movable floors) and accessories for the pool as a whole.
Develop a strategy of technology licensing (filtration, decks, etc.) or white label products.
Improve production processes in order to guarantee attractive prices but also to ensure the transferability of production techniques with a view to future plant locations (Asia, USA).
An experienced team organized around the two partners who, through their complementary experiences, helped structure the company from the very beginning. The BIOPOOLTECH group and the products it offers have been designed by a team of expert environmental engineers and marine carpenters. Our team has been specialized in waterproofing issues, respect and valorization of water, energy conservation, renewable production, wood and environment for more than 10 years.
ADDRESS BIOPOOLTECH GROUP
Contactez nous pour étudier le projet de vos rêves!
Contactez nous pour étudier le projet de vos rêves!